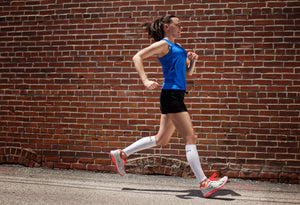 Today, you can easily find athletic compression socks from almost anywhere. However, not all compression is made the same. Remember that in order for the compression to effectively work, it must be graduated compression, meaning that it applies the most pressure at the ankle and gradually decreases as it moves up the leg. Looking for graduated, medical grade compression is the best option and will ensure that you are getting the right type of compression level and the full benefits.
While compression is great for regular daily wear, it is also extremely beneficial to wear during and after exercise or physical activity. Have you ever noticed that your legs feel tired and sore after your workout or the next morning? Feeling a little sore after exercising can be completely normal, because you are using your muscles more and in ways that you don't normally use them. Wearing compression during and after exercise actually helps relieve your sore, tight muscles so you won't feel as sore afterward and you can recover quicker. Compression also helps to improve circulation and reduce the build up of lactic acid. This is very important during physical or strenuous activities for better blood flow and keeping your legs healthy and strong. Whether you already wear compression every single day or just wear it often, adding it to you workout gear will help you feel better longer during your exercise!
We've gathered some of our favorite athletic compression socks so you are ready for your next workout or physical activity!
The Sigvaris High Tech Knee Highs are one of our best-selling pairs. These socks are made with an anatomically contoured shape and a cushioned sole to give you the optimal amount of comfort where you need it most. The High Tech fibers provide thermal control to regulate moisture and temperature so your feet will stay comfortable during intense exercise. Cushioned footbed, toe and Achilles tendon zones provide added comfort and protection, while the 20-30 mmHg provides a firm level of compression that improves circulation and blood flow. This pair is also available in a variety of sizes and colors so you can find the perfect pair (or multiple pairs) for you!
The Jobst Sport socks are designed to provide a lightweight, breathable, long-wearing sock that is ideal for any type of athletic and physical activities. Moisture-wicking fibers reduce any moisture from sweat and keep your feet cool and comfortable. The knee band has a secure fit for all day comfort, and the toe seam is placed on top for better comfort during extended wear. Made with a knit-in anatomical shape and fit, these socks will feel great during any exercise.
Made to boost performance and provide better recovery, these VenaSport Athletic Compression Socks provide maximum comfort and durability during physical activity. The wide top band keeps the socks in place while the y-gore toe seams reduce bunching and irritation around the toes. They are also made with a deep y-gore heel pocket to fit the natural curve of your heel and prevent slipping or friction. Moisture-wicking technology and a vented top panel helps your foot breathe better and provide moisture management during intense exercise.
Looking for an athletic leg sleeve option? These Core-Sport Leg Sleeves offer a moderate 15-20 mmHg compression that is greatest at the ankle and gradually decreases as it moves up the leg and calf. The graduated compression improves your circulation and also provides added support and stabilization during activities. The high-tech fibers wick away moisture from the skin so your feet stay dry and comfortable during your entire workout, while the antimicrobial properties prevent odor. Made with a comfort top that stays in place during any movement, these leg sleeves are perfect for your next workout.
Another great leg sleeve option, this pair from Sigvaris comes in firm 20-30 mmHg compression. The compression stabilizes your muscles and improves circulation for better performance. Made with a unique fabric that is resistant to deterioration in salt, chlorine, or fresh water, these socks are perfect for those who need to wear compression but enjoy water activities. They are also quick drying from any water or sweat. Plus, the leg sleeve design is great to wear with your favorite shoes!
If you are looking for a shorter sock option, these Solidea Speedy Mid-Calf Socks are a great option. Solidea's unique three-dimensional micromassage fabric actually massages your skin while you wear them for superior comfort. The unique fabric also improves skin transpiration and keeps your feet dry and at the optimal temperature. Bacteriostat yarn prevents the growth of bacteria and odors, even after hours of use. The graduated compression improves circulation and reduces soreness and lactic acid buildup so your legs will feel great during and after your exercise.
For those who want a no-show sock option, the CEP No Show Socks 3.0 are the perfect pair. They are made with an anatomical design and functional padding for maximum comfort. The high-tech, breathable yarn provides moisture management and helps regulate your temperature, while the HEIQ clima-management helps keep your skin cool during activity. Targted compression in the foot provides relief for plantar fasciitis and sore feet. This pair is available in both Men's and Women's so you can get the perfect fit.